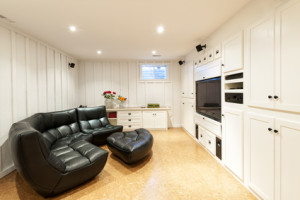 The basement is often one of the most ignored sections of the home, but surprisingly, it holds a lot of potential. Rather than use it as a dumping area for the things you don't use, you can easily get more living space by investing in some basement remodeling. While getting an experienced basement remodeling contractor in Vancouver BC is not the cheapest option, it offers the advantage of a smooth remodeling process.
One of the reasons you want to work with a professional is that basement remodeling can be quite tricky. A lot of your home infrastructure including wires, pipes and ducts run through the basement. This means that this infrastructure has to be preserved and concealed stylishly, and professional remodeling contractors have the skill and expertise needed to do this. As such, there are certain important considerations to make in order to choose the best person for your basement remodeling project:
Referrals
One of the best ways to identify qualified remodeling contractors is to speak to friends, colleagues or family members that have previously had their basements remodeled. This would be helpful as they could easily refer you to the specific companies that offered them remodeling services. Ask whether they were completely satisfied with the work done by the contractors.
Get in touch
Once you get a list of potential basement remodeling contractors, take some time and call them to get information about their company. Find out how long they have been in the business and if they specialize in basement remodeling. You should also find out whether they are licensed and insured, so you are not held liable in case of injuries that occur in the course of the project. The contractors should also have all the required permits to undertake basement remodeling in Vancouver.
References
It is also important to ask potential basement remodeling contractors for a list of clients they have worked for previously. Do not hesitate to call these clients and hear what they have to say about their experience with the contractor. If possible, take the time to visit some of the finished projects – you may get ideas for your project in addition to seeing the contractor's level of workmanship. A visit to an ongoing project may also be helpful in assessing how well the team is coordinated and if the working area is kept safe and neat.
Quote
Remodeling contractors should offer you a free estimate of the projected costs. The estimate should include the plan and the materials that will be used. The estimate is important since it acts as a guide once the project begins. Remember to ask the basement remodeling contractor about additional costs that may not be included in the estimate to avoid future misunderstandings.
Payment
At this point, you can now settle on the remodeling contractor you are most comfortable working with. Discuss a payment schedule you are comfortable with. Keep in mind that when undertaking basement remodeling in Vancouver, the contractor may require some percentage of the total cost of the project as a deposit when signing the contract.
Basement remodeling is an important activity that requires the skill of an experienced team. If you need a basement remodeling contractor in Vancouver BC, we are here for you. With many years of experience in the business, we will convert your basement into a room you will definitely want to show off. Call us today for all your basement remodeling requirements.