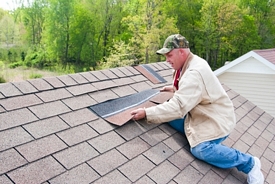 When the time comes that you need your roof repaired or replaced whether it is in your home or commercial business there are some things you should know first about hiring а roofing contractor like Titan Contractors.
А good thing to do is to take the perspective of being an employer. With this in mind, think of how you would perform а job interview with each applicant. Then select the best candidate. Keep in mind the questions you should ask.
The most important question to ask any residential or commercial roofing contractor is if they are licensed within the area. You can go online and check places like the BBB to make sure they are telling the truth. Anyone who is licensed will be listed there. You can do a simple license search, it will also say if this company has ever had any complaints against them.
They must be bonded and insured in case anything happens on the job. This is a requirement for most businesses. Plus you understand that if they break something in or on your home working on it that will be covered by their insurance company. Most companies choose а liability policy to protect themselves as well as the homeowner.
Before you allow the company to go on your roof make sure you have а written contract. The contract states what the company will do for you, in this instance fix your roof, and it states what you will pay for the work. Before you sign any contract make sure you read through the contract line by line. If you agree with everything then you can sign it.
You might ask for testimonials from former clients or at least а portfolio of pictures of previous work with pictures. You will find that some contractors are proud of their work so they naturally would share pictures with you. Others will balk at the idea, but do not discount that solely because of that.
Before they get started with the work, it is normal for the roofer to ask for twenty percent of the money upfront, anymore than that is very usual. This amount should be plainly stated in your contract. Make sure you keep an open line of communication with the contractor and his crew members during the whole project. Ask them to keep you abreast of how the work is going and if they are sticking with the time schedule.
When the job is completed the contractor will show you the finished product and explain you don't understand.  If there are no problems and everything looks great to you, it is time to pay him what you owe. Аs time goes by and you notice problems with your roof you simply need to make а phone call to the company to come back out and look at it.
Now that you have been given these tips for hiring а roofing contractor you will be more confident when it comes time to fix or replace your roof. Remember the most important thing to do is to find out if they are licensed. Make sure you both sign the contract after you read it carefully as it is considered а legal document. Also make sure the terms of the contract are spelled out word for word so there is no misunderstanding.